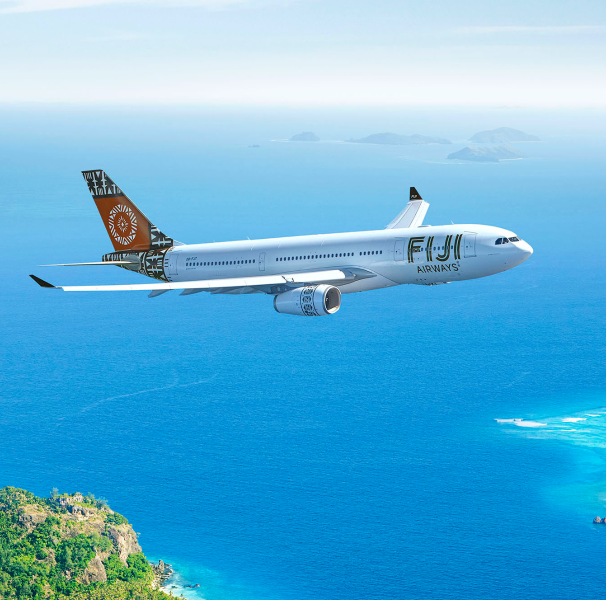 At a glance
21

Destinos

13

Countries/Territories

Tabua Club Plus

programa de passageiros frequentes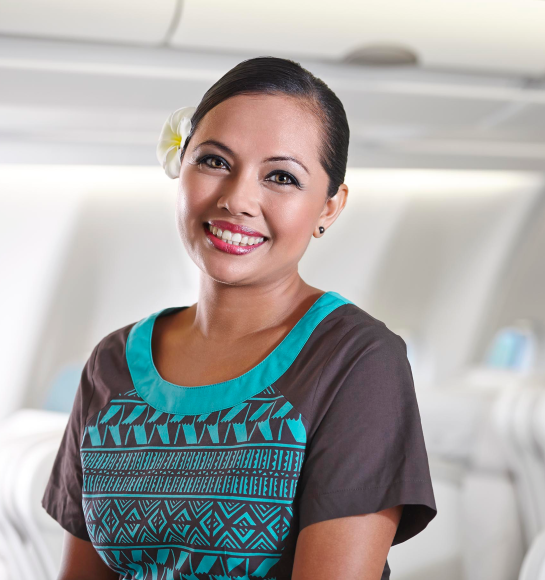 Pick and cruise.
O grupo opera uma frota de 16 aeronaves, incluindo quatro Airbus A330 e cinco Boeings 737 da próxima geração, oferecendo produtos das classes Executiva e Econômica na maioria das rotas internacionais, incluindo assentos que se convertem em assentos-leito nos voos de longa distância.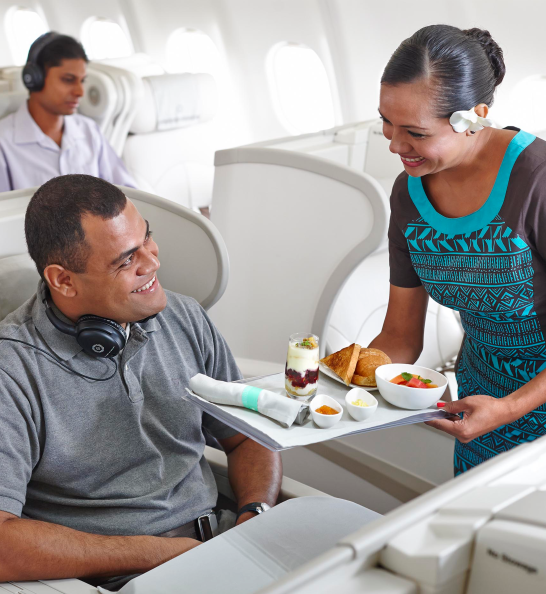 Privileges, points and more.
Os parceiros da oneworld connect fornecem benefícios selecionados da aliança para passageiros frequentes de qualquer companhia aérea membro da oneworld viajando em seus voos, com uma variedade ainda mais extensa de benefícios oferecidos com um subgrupo de companhias aéreas membro da oneworld conhecidas como suas "patrocinadoras oneworld".
As a member of Fiji Airways Tabua Club Plus you will receive priority check-in, priority boarding and lounge access (with 1 guest) on eligible flights when travelling on oneworld connect partners American Airlines, British Airways, Cathay Pacific and Qantas Airways.
Lounge Access.
Indulge yourself before departure when travelling on a oneworld connect journey involving Fiji Airways and a oneworld sponsor, either British Airways, Cathay Pacific or Qantas Airways.
Access while travelling
CX flight number/code (FJ operated service):

HKG to NAN
CX flight number/code & CX operated service:

HKG-SIN / HKG-BKK
Qualificação
Diamond Tier
First/Business Class Lounge:

Eligible + 2 guests
Gold Tier
Business Class Lounge:

Eligible + 1 guest
Access while travelling
CX flight number/code & CX operated service:

BKK-HKG
Access while travelling
CX flight number/code & CX operated service:

SIN-HKG
Access while travelling
CX flight number/code (FJ operated service):

NAN to HKG
CX flight number/code (FJ operated service):

HKG - NAN
Access while travelling
QF flight number/code (QF or FJ operated services)
Access while travelling
QF flight number/code (QF or FJ operated services)
Access while travelling
QF flight number/code (QF or FJ operated services)
Access while travelling
QF flight number/code (QF or FJ operated services)
Access while travelling
QF flight number/code (QF or FJ operated services)
Access while travelling
QF flight number/code (QF or FJ operated services)
Access while travelling
QF flight number/code (QF or FJ operated services)
Access while travelling
QF flight number/code (QF or FJ operated services)
Access while travelling
QF flight number/code (QF or FJ operated services)
Local

Tokyo - Narita (NRT)
Access while travelling
QF flight number/code (QF or FJ operated services)
Local

London - Heathrow (LHR)
Access while travelling
QF flight number/code (QF or FJ operated services)
Access while travelling
QF flight number/code (QF or FJ operated services)
Access while travelling
QF flight number/code (QF or FJ operated services)
Access while travelling
QF flight number/code (FJ operated service):

NAN to AU/ NZ/ US
Local

Singapore - Changi (SIN)
Access while travelling
BA flight number/code (FJ operated service):

NAN to HKG/LAX/SFO/ SIN/ NRT
Access while travelling
BA flight number/code (FJ operated service):

NAN to HKG/LAX/SFO/ SIN/ NRT
Access while travelling
FJ flight number/code (CX operated service):

HKG-SIN / HKG-BKK
CX flight number/code & CX operated service:

HKG-SIN / HKG-BKK
Access while travelling
FJ flight number/code & CX operated service:

BKK-HKG
CX flight number/code & CX operated service:

BKK-HKG
Access while travelling
FJ flight number/code & CX operated service:

SIN-HKG
CX flight number/code & CX operated service:

SIN-HKG
Access while travelling
QF flight number/code (QF or FJ operated services)
FJ flight number/code (FJ or QF operated services)
Access while travelling
QF flight number/code (QF or FJ operated services)
FJ flight number/code (FJ or QF operated services)
Access while travelling
QF flight number/code (QF or FJ operated services)
FJ flight number/code (FJ or QF operated services)
Access while travelling
QF flight number/code (QF or FJ operated services)
FJ flight number/code (FJ or QF operated services)
Access while travelling
QF flight number/code (QF or FJ operated services)
FJ flight number/code (FJ or QF operated services)
Access while travelling
QF flight number/code (QF or FJ operated services)
FJ flight number/code (FJ or QF operated services)
Access while travelling
QF flight number/code (QF or FJ operated services)
FJ flight number/code (FJ or QF operated services)
Access while travelling
QF flight number/code (QF or FJ operated services)
FJ flight number/code (FJ or QF operated services)
Access while travelling
QF flight number/code (QF or FJ operated services)
FJ flight number/code (FJ or QF operated services)
Local

Tokyo - Narita (NRT)
Access while travelling
QF flight number/code (QF or FJ operated services)
FJ flight number/code (FJ or QF operated services)
Local

London - Heathrow (LHR)
Access while travelling
QF flight number/code (QF or FJ operated services)
FJ flight number/code (FJ or QF operated services)
Access while travelling
QF flight number/code (QF or FJ operated services)
FJ flight number/code (FJ or QF operated services)
Access while travelling
QF flight number/code (QF or FJ operated services)
FJ flight number/code (FJ or QF operated services)
Access while travelling
CX flight number/code (FJ operated service):

NAN-HKG
QF flight number/code (FJ operated service):

NAN to AU/ NZ/ US
BA flight number/code (FJ operated service):

NAN to HKG/LAX/SFO/ SIN/ NRT
FJ flight number/code & FJ operated service